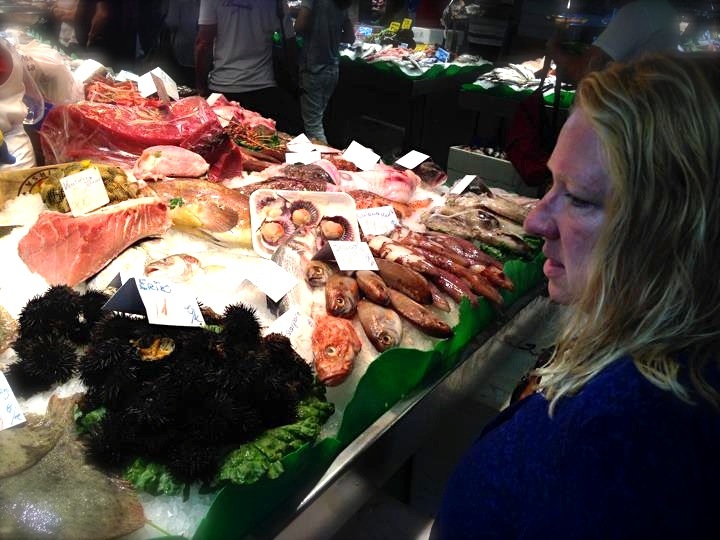 Steadying my nerves in a mad display of seafood delights in Barcelona's Boqueria
Seems like most people's New Year's resolutions tend toward things like losing weight, learning Italian or taking up jewelry making. All worthy pursuits to be sure, but being the contrarian that I am, I've decided to proclaim 2017 My Year of (Mostly) Pacific Northwest Seafood.
We moved to Seattle almost a full year ago—Himself and I and our cats arrived on a sunny mid-January afternoon in a sparkling gust of mist and snow. I had the best of intentions to plunge right into the seafood of our new region. Himself and I had a couple of cooking dates, playing with the salmon and tuna we picked up at the farmers' market and turning out some fine dishes. But except for eating plenty of seafood in restaurants all over the city, that's been about it. It's been rare that I've bought and cooked seafood this past year.
Few of my seafood-loving friends understand this, but my journey to seafood comes with a lot of baggage, certainly more than I can fit under the seat in front of me or in the overhead compartment.
Growing up in the rural South, far from salt water, I thought that be it trout or bream, crappie or catfish, whatever was pulled out of local ponds and rivers was seafood. Most "seafood" I had in those years was wretched—all heavily breaded and deep-fried in oil of questionable integrity. All cooked in the same murky vats in which chicken, onion rings, French fries and hushpuppies were fried. In oil that likely was unchanged since the Eisenhower years. Fish with none of the bones removed.
In spite of my culinary school training I continue to hold seafood at a distance.
Oddly, during my 18+ years in Los Angeles I just never cozied up to seafood in spite of my proximity to the ocean. (LA is strangely not a seafaring city. Except for surfing, sunbathing and paying dearly for a view of the sun setting on the Pacific, most Angelenos pay scant attention to the sea.)
But I'm in a place now where it doesn't take a lot of money to see the water. And seeing the water, in addition to lowering my blood pressure and satisfying my need for a beautiful view, is a constant reminder that below that lovely blue surface is a world of dining options. Options that I should revel in and explore.
I figure that laying it out here in front of everyone will keep me accountable. If too much time goes by and there's no posting about my latest seafood foray, I know at least one of you will say, "Hey, girlfriend! Time to go fishing!"
Today is Himself's birthday, and we've set our sights on delving into oysters on the halfshell. We'll uncork the bubbly, bring out the oyster knives and pop open some fresh oysters to enjoy.
Now it's time to go make the mignonette!