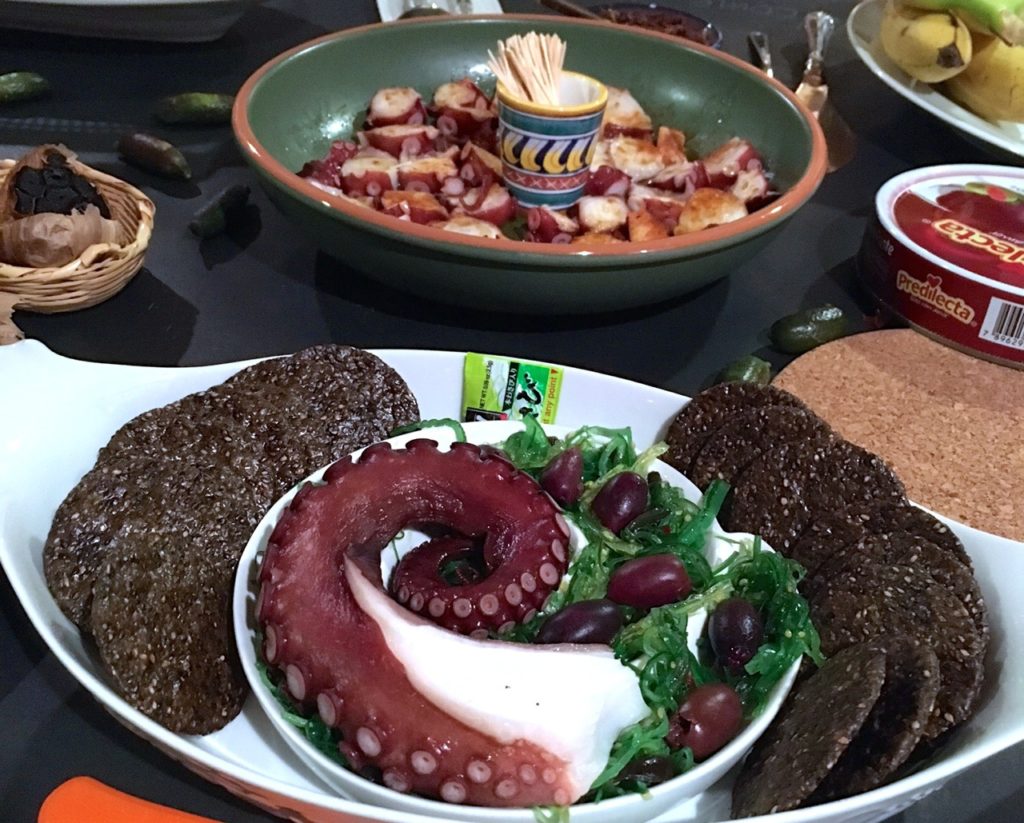 Octopus anyone?
This past weekend I went to a dinner party where we feasted on crickets, barnacles, chicken feet, octopus, camel's milk, 100-year-old eggs, baccalao and quite a few more things average Americans don't typically find on their tables.
The party was the idea of our lovely friend João, a fearless eater who felt that a Friday the 13th falling in the month of Halloween presented an appropriate occasion to step outside the comfort zone and try foods that just might give us the creeps. Of course this group was game for it all, so it wasn't such a scary proposition. Just intriguing and fun—and for the most part, delicious.
Here's a glimpse of a few foods we delved into:
There's nothing like discovering a full octopus tentacle on the buffet (see the photo up top) to make your eyes pop. Dawn went for the dramatic and laid out the uncut tentacle on a bed of seaweed salad. I also brought octopus (same photo), from which I made pulpo, cutting it into bite-sized pieces, drizzling it with olive oil and sprinkling it with sea salt and pimenton de espelette (a Spanish hot chili powder). This tapa was one of our favorites when Himself and I visited Spain, so while I bought the tentacles at an Asian grocery, I gave them the Spanish treatment.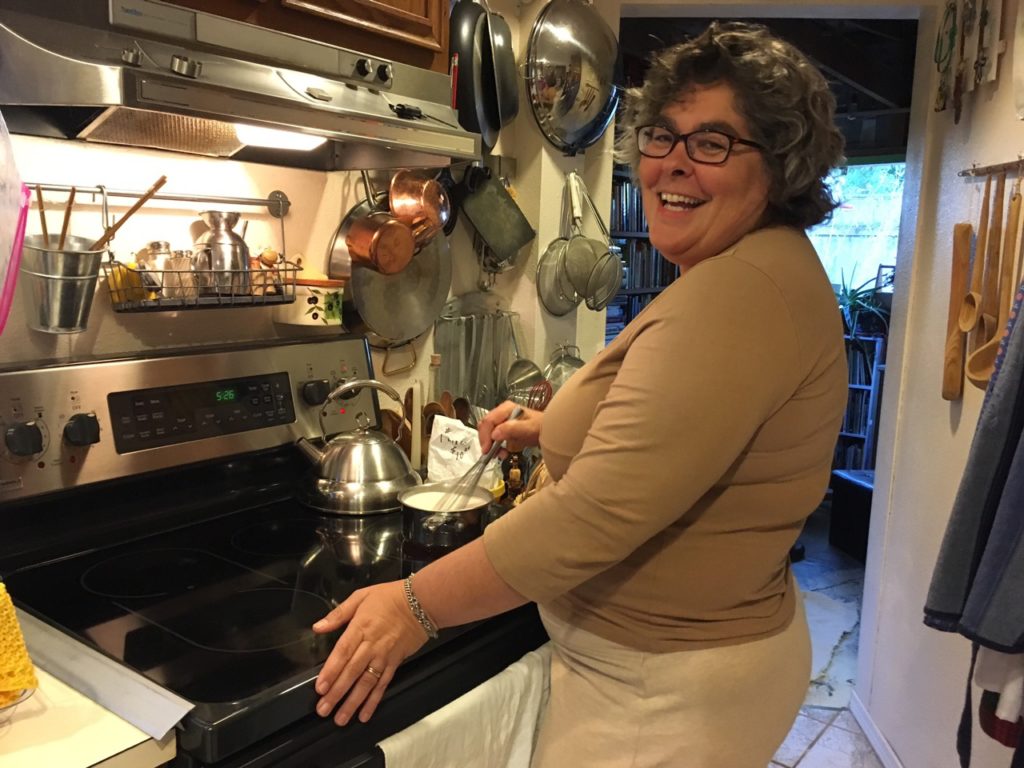 When I arrived, João was at the stove making custard from camel's milk.
João flavored her camel's milk custard with orange flower water, cardamom and elderflower liqueur. I sampled some of the camel's milk straight from the jar and found it practically indistinguishable from cow's milk. While it has less fat than cow's milk, its texture is in no way lacking. If someone poured it over your cereal you'd never know the difference. (If you're curious, you can find camel's milk at some Whole Foods Markets or from Desert Farms.)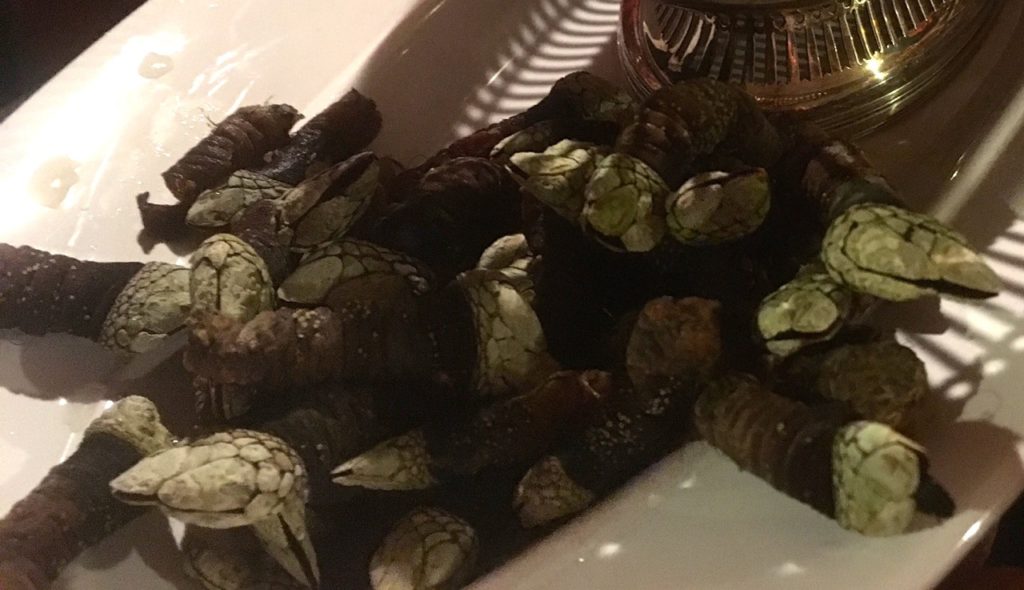 The heads of these percebes, or barnacles, look like wee, prehistoric hooves!
Having enjoyed barnacles in Spain, I was thrilled that João was able to find some here in the Pacific Northwest. These gooseneck barnacles came from just up the road in Vancouver. They needed only the barest amount of cooking in heavily salted water (you can use seawater for the job) before they were ready for us to indulge.
Grab the "dinosaur" end of the barnacle in one hand and the "body" in the other, give it a little twist and pull. Out comes a briny bite of meat.
Barnacles are not to be taken for granted. Harvesting them is dangerous work best suited to the strong and the brave. This fascinating story of the perils of barnacle harvesting gives me a special appreciation for them—and for the people who risk their lives to put them on the table (in this case, three Spanish sisters who fight not only the violent ocean tides but also a heavily male-dominated industry to support their families).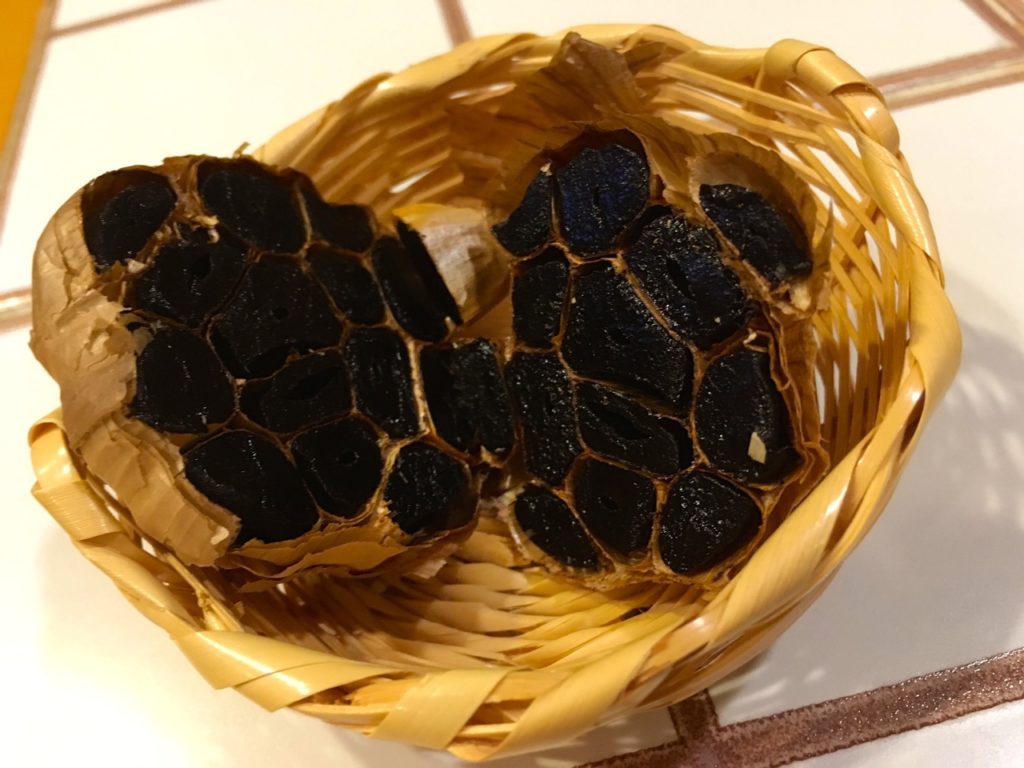 black garlic—black gold!
João was also able to lay her hands on some black garlic, which is produced by only a few of the most patient people with a special piece of equipment that balances temperature and humidity. It's not a particular variety of garlic but rather the product of a super low-and-slow caramelization occurring over a period of weeks, that transforms it into a rich, sweet paste with a distinctive balsamic quality, and renders it practically imperishable—not that it would ever go uneaten for very long. It looks like crude oil, but use it to flavor a dish or even spread it over a piece of bread, and you'll have a new favorite food. While it was tempting to gobble it up all by itself, I used two full heads to make black garlic aioli.
Black garlic cloves are creamy and rich, perfect for just about any dish you can dream up!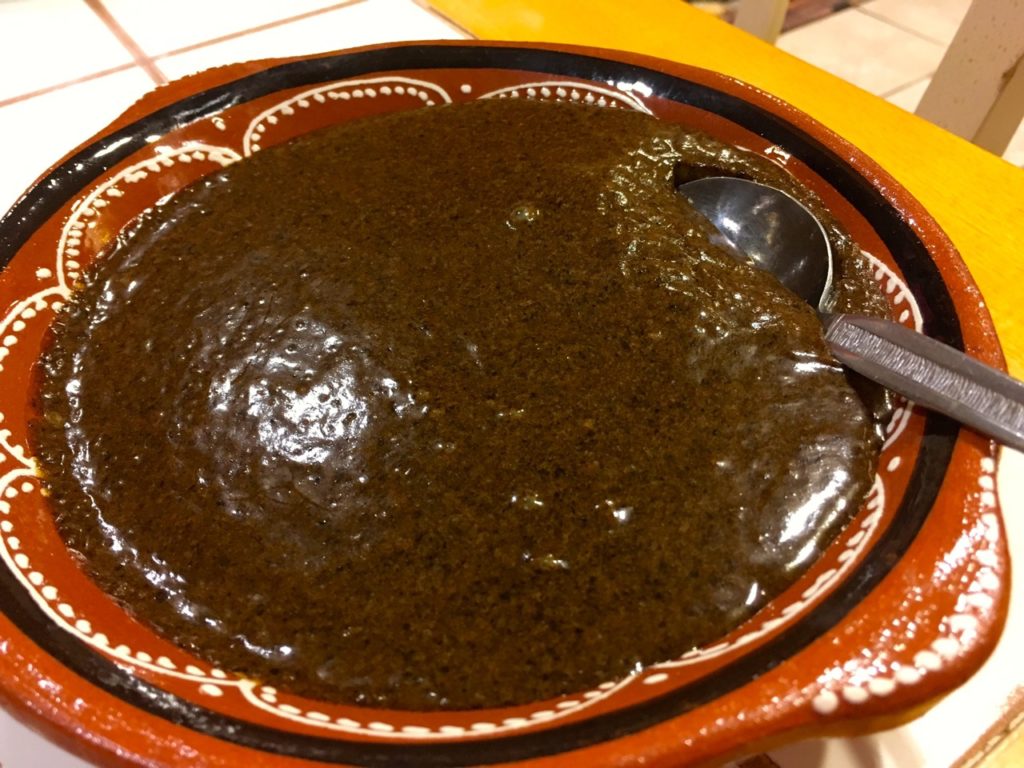 Ta dah! The finished product—black garlic aioli. We dredged slices of fresh palm heart in it, when we weren't busy just licking it off our fingers!
Lorna brought salted duck eggs and 100-year-old eggs, both examples of Chinese egg preservation. The uncooked duck eggs are preserved within their shells in a salt solution, while the 100-year-old eggs are an exaggeration—they actually take about a month to make. The process requires the use of lye, and that in itself is enough to give some of us pause. Lorna left it up to the professionals and bought the eggs at an Asian market.

Lorna and Carmo put the finishing touches on the Chinese preserved eggs.
Both types of eggs have a heavy, earthy flavor. In spite of the duck eggs having been preserved in salt, they weren't terribly salty, just musty. I wish I could recall more of the differences between the two, but by the time I got around to the eggs my taste buds were crying "uncle!" These eggs are available at any Asian grocery, so I plan to pick some up in the future and pay more attention as I eat them next time.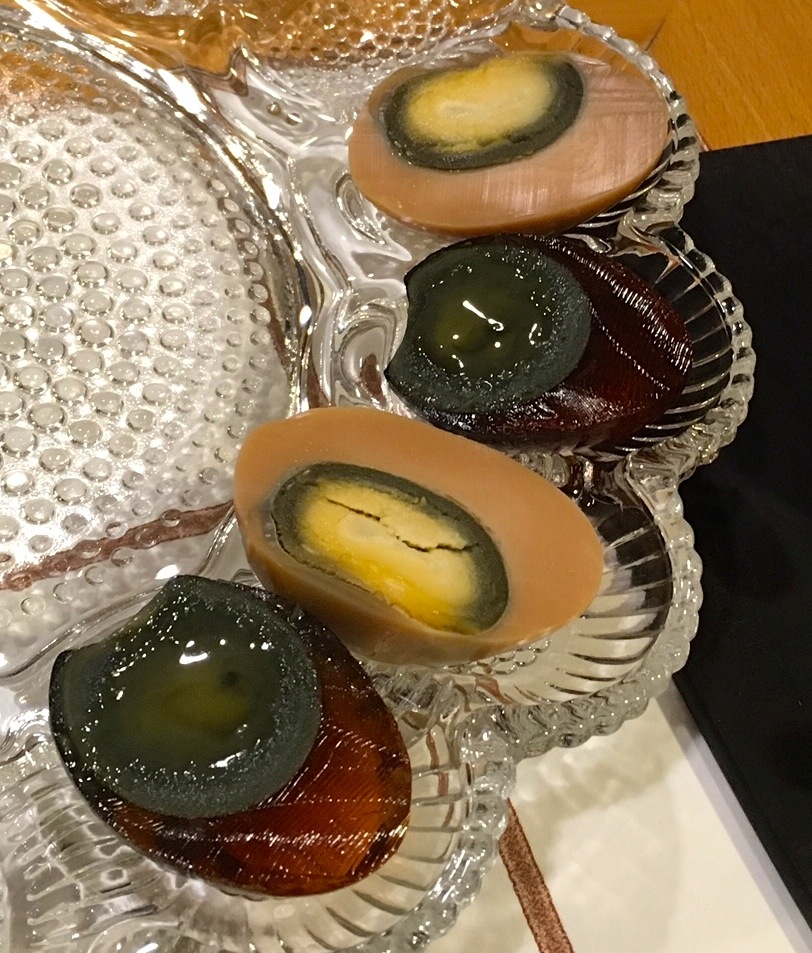 The ones with the creamy outer layer are the salted duck eggs, and the ones with a clear, amber exterior are 100-year-old eggs, a.k.a. Century Eggs.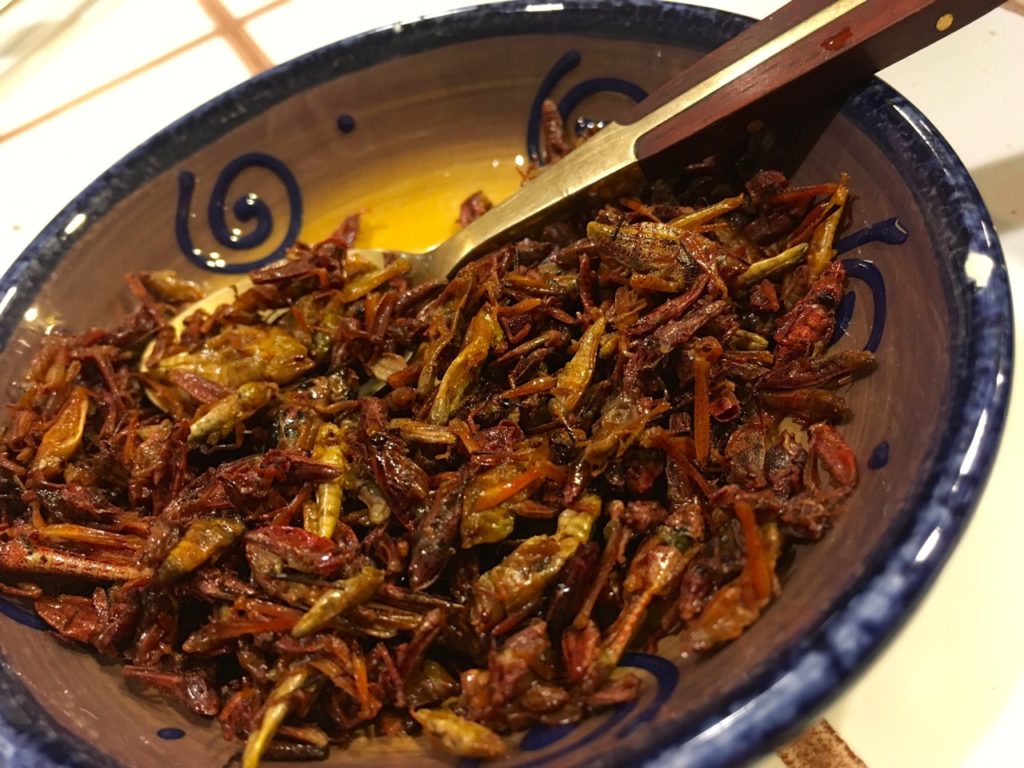 Chapulines, better known north of the border as crickets
A couple of days before the party I ordered some chapulines at a Mexican restaurant. Paired with a crisp cerveza, these fried crickets make a great snack on a hot day. We nibbled a few, and I kept the rest for the party. This batch was especially salty and lime-intense, so we used them as a topping for pasta made with a sauce of anchovies and fennel. It was a good match.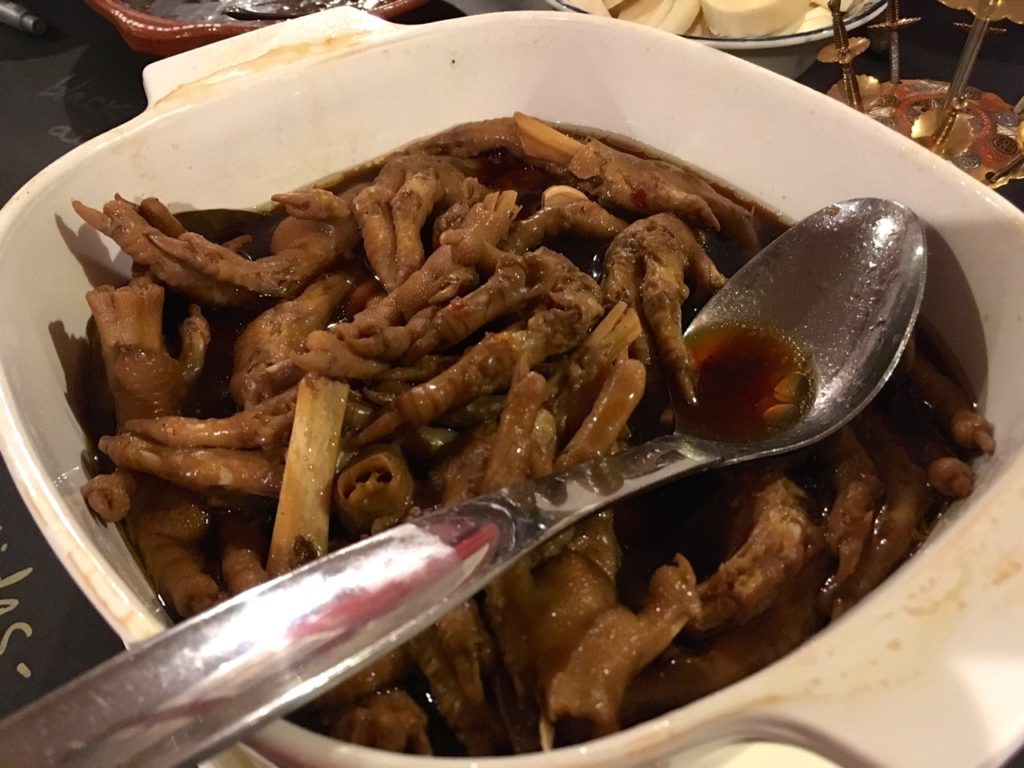 chicken feet!
Chicken feet look disturbingly like tiny human hands. They contain a constellation of wee little bones, and the trick is to gnaw off the skin and cartilage without swallowing any of them—not that it would hurt you if you did. They're loaded with collagen, which means they're incredibly good for you, if you can get past what they look like and what they are.
I could go on—and you probably wish I'd stopped before the crickets and chicken feet, eh?
Several of these foods are examples of preservation methods that have helped humankind keep body and soul together throughout history. It's not all bacon, jam and pickles! In addition to the eggs and the black garlic there was baccalao, salted, dried fish, which was rehydrated and made into a fabulous stew. Also there was havarti cheese and quince paste, more familiar examples of milk and fruit preservation.
These foods aren't really strange, at least not to those who eat them every day. If you're timid of tastebud, it's probably a good thing you weren't there (but I encourage to you to try a dinner like this anyway—it's fun!). I'm happy to report that our gathering of all ages and an array of backgrounds feasted with abandon. In fact, the three teenaged guys in particular impressed me with their eagerness to sample everything and proclaim it all delicious, burgers and pizza be damned!
This gives me hope for the next generation.