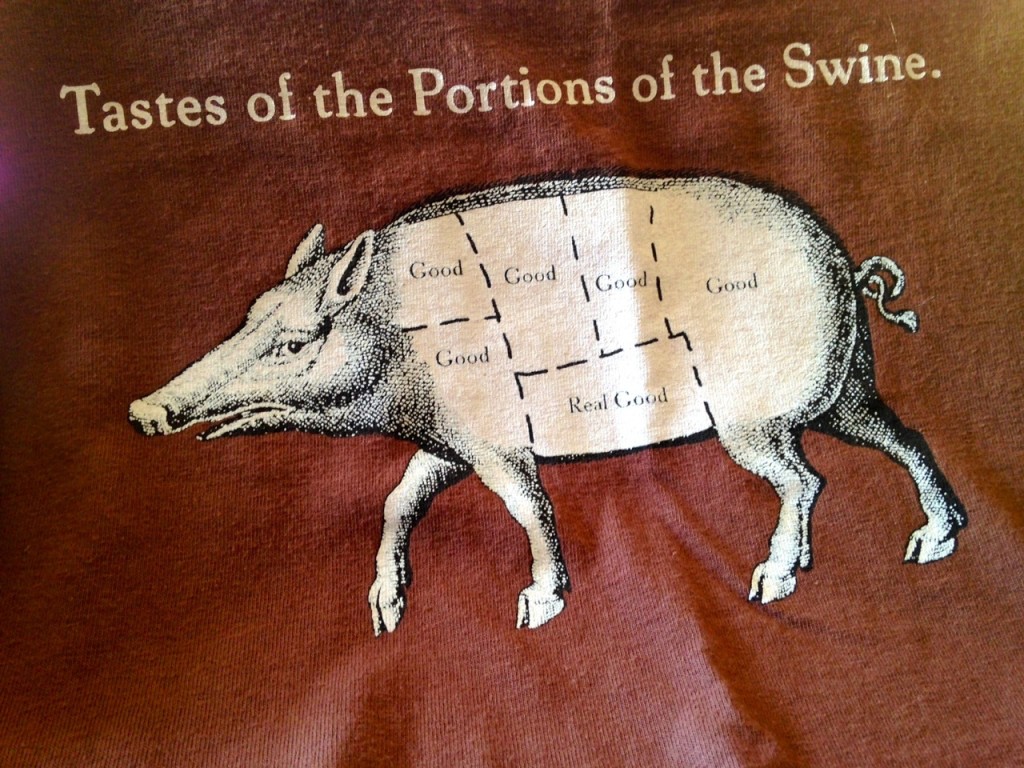 Next time I go to Spain I'll be sure to take my fine swine t-shirt with me. It just might get me some freebies!
I'm currently reading John Barlow's Everything But the Squeal, in which he details his year spent eating every part of the pig on his travels throughout Galicia, the northwestern corner of Spain that borders the Atlantic Ocean. For those of you who might not have heard the expression, it is said—most correctly—that when it comes to the pig, you can eat everything but the squeal. Actually, I always heard that expression as "everything but the oink," but the idea is still the same. If you treat it with ingenuity, patience and care, you can consume the hog in its entirety.
What struck me, though, was his reveal that when you go to Galicia's pork-centric festivals (and Galicians reaallly love their pork!), whether the exalted piece of pig flesh is the snout, the corkscrew on the backend or somewhere in the middle, you'll find not only the celebrated piggly part but pulpo as well. It is a feature of every festival. EVERY festival. In fact, Barlow says that pulpo is "as close to a Galician's heart as pork."
Pulpo is a treat that shows up on tables throughout Spain. Fitting in the tapas category—or pintxos if you're in the Basque region—pulpo is octopus tentacle that has been simply cooked (in Spain it's usually boiled in a large copper pot), cut into bite-sized pieces, drizzled with olive oil and sprinkled with Spanish paprika and flaky sea salt. The flesh is dense yet smooth and creamy, unless it's been mishandled and becomes tough and chewy. Its delicate flavor makes it a natural for all sorts of flavor combinations.
This past week I found myself in an Asian supermarket, pulpo the last thing on my mind. As I searched for items for some recipes I've been developing, I swung by the seafood section for a look at the fresh fish and such, much of which was looking right back at me (I'll return for those catfish heads another time). And I spotted individual octopus tentacles, pre-cooked and packaged with little sleeves of wasabi. As I plucked a couple of them out of the array of seaweed salad, sushi and kimchi—all of which I adore—my thoughts weren't of Asian food.
They were of PULPO!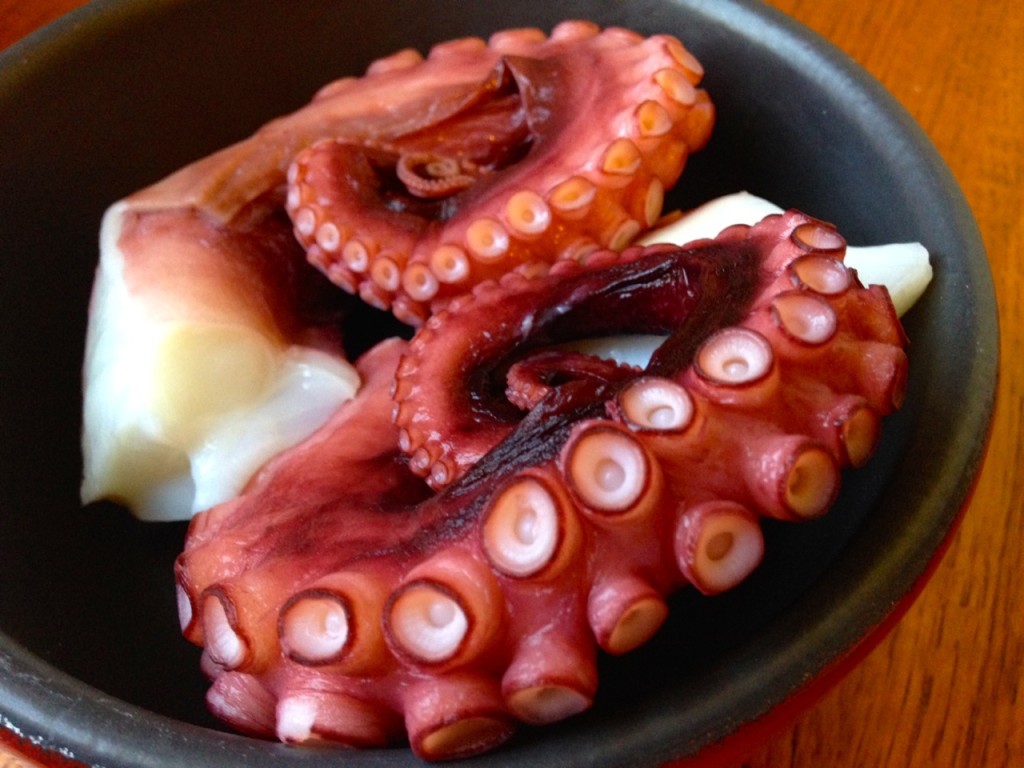 I'm a sucker for these suckers…
So when I got home with them, I tossed out the wasabi packets and gave the tentacles the Spanish treatment, added in a few delectables from the local Spanish market—namely some anchovy-stuffed Spanish olives and tiny green pickled peppers called piparras—and poured myself a glass of txakoli, a crisp white wine from the Basque country. And I rounded out the feast with a hunk of bread Himself had baked the day before, great for mopping up every last bit of olive oil, paprika and sea salt.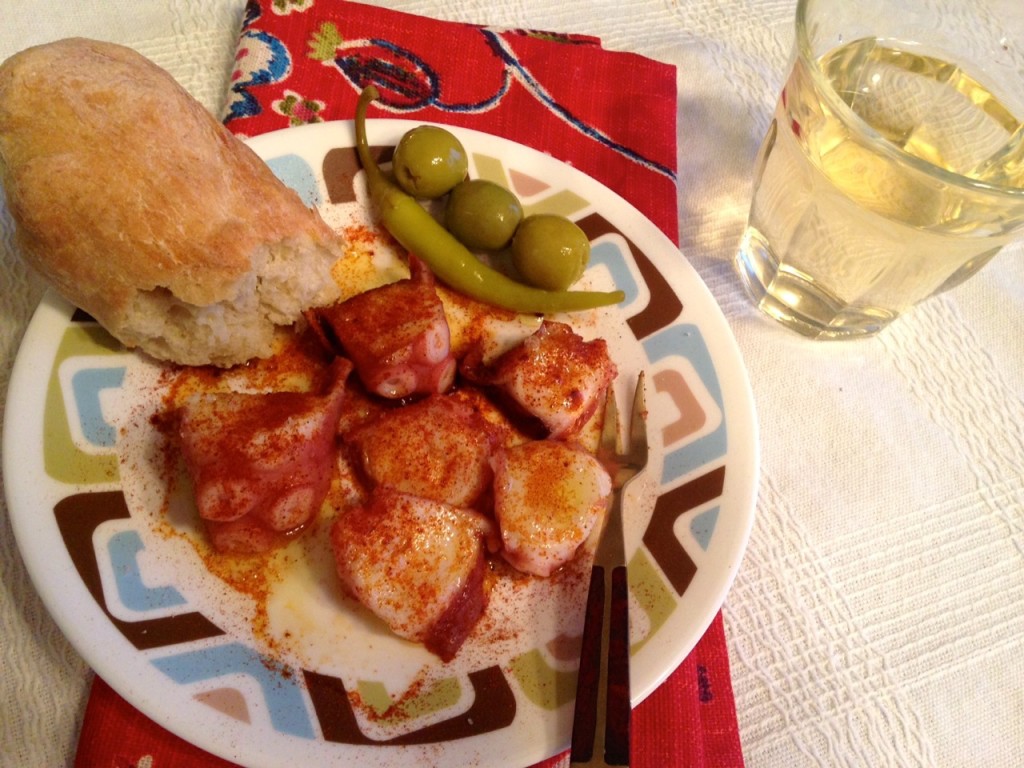 mine, all mine…
Speaking of Himself, he was out of town, so I greedily envisioned enjoying my feast all by myself. That worked out only until Cosmo's nose alerted him to something in the kitchen that he needed to check into. Turns out, he's a fan of pulpo too. And now he drifts through hopefully, assured that there's more pulpo and that I'm in a sharing mood.
fellow pulpo lover
What a delight that this need not be an either/or proposition. In Spain you can indulge in both, just my kind of surf and turf. Now I'm scoping out recipes for combining these two, like wrapping octopus in bacon. I'm not the first one to think of this—the internet is full of menus featuring pork belly and octopus There's even a restaurant in Milano that serves octopus and pork belly lollipops!
As for me, I'm not interested in blazing a new trail but rather reimagining how I can take ingredients into my own kitchen and use them in ways I'd never thought of—like giving my Chinese octopus a Spanish passport.
I see a whole new type of angels on horseback in my future.