Last week's blog entry on cabbage drew interest from people who wanted to know how to give it the bacon and maple treatment. Here's the recipe I devised…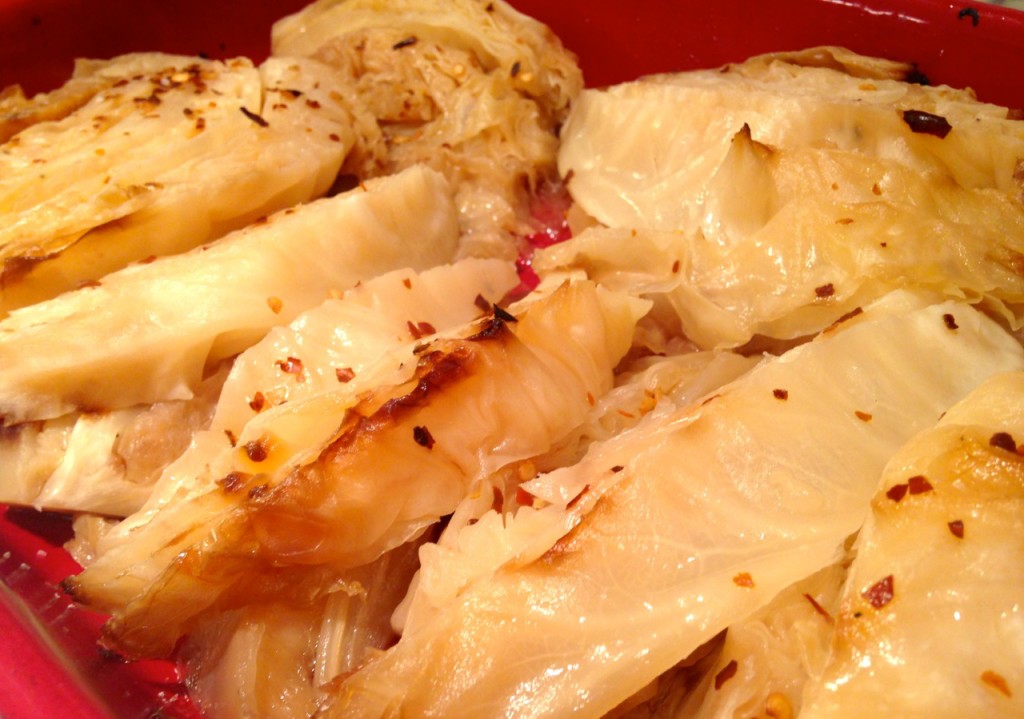 Bacon Maple Cabbage
Makes 8 servings
The Internet has loads of variations on this idea. This is how I do it:
1 head of cabbage, whatever type you have on hand or like best
¼ cup melted bacon drippings, or as needed
¼ cup real maple syrup, more if you like
1 tsp. cider vinegar
sea salt, to taste
red pepper flakes, to taste, optional
Preheat oven to 400°F.
Using a pastry brush (or your fingers), coat a 9" x 13" baking dish with bacon drippings.
Discard outer, messy layers and give the cabbage head a good rinse. Cut in half from root to top, then into quarters, root to top, and then trim out the core. Then halve the quarters longways so that you have eight wedges.
Arrange cabbage wedges in prepared baking dish. Brush cabbage with bacon drippings, drizzle with maple syrup and sprinkle with cider vinegar, sea salt and red pepper flakes to taste, if you like a little heat. (If the cabbage head is extra large you may want to cut it into 12 wedges and bake it in two layers. If that's the case, arrange the first layer of cabbage, add half of the drippings, syrup, vinegar, salt and pepper flakes; then lay down the second layer and repeat.)
Tip: It's difficult to sprinkle such a small amount of vinegar, so to make it easier I first put a teaspoon of it into a quarter cup measure, then fill the measure with maple syrup and give it a little stir with the tip of a knife. Then when I'm drizzling the syrup, the vinegar is being distributed too.
Cover with aluminum foil and bake for about an hour, or until the thickest parts of the cabbage are melty soft, which you can determine by poking them with the tip of a knife. When you're going for decadent vegetables it seems silly to cook them only until they're still crispy, so let them have the full heat treatment.
Enjoy hot, room temperature or cold. It's even better the next day or two. I think room temp is best and suggest removing the cabbage from the fridge and letting it sit on the counter top for a couple of hours. When food is too hot or too cold you don't get the full flavor.
Note: When you have just a few ingredients, be sure they're best quality. For those of you living in the South, there's no problem finding good bacon for your drippings. For everyone else, try to find bacon that is smoked, not just smoke flavored. And be sure the maple syrup is real, not maple-flavored corn syrup.
And there we go! Let me know how yours turns out.
Cheers!