It's funny how often it takes someone from out of town to clue you in on what's going on in your own backyard. My friend and culinary compadre Katy Budge of Casa Festiva recently e-mailed me about a new Belizean restaurant just opening in Los Angeles. In spite of my regular trolling for different international cuisines, I had no clue it was here. So I popped into Flavors of Belize, on La Brea in the Midcity area. Open just a month, this new place offers food with a Mayan, Mestizo and Caribbean flare.
Belize sits on the western edge of the Caribbean, just south of Mexico's foot and nestled in beside Guatemala and Honduras. Until the Europeans arrived, it was populated by the Mayans, whose culture remains a strong influence on the country's cuisine.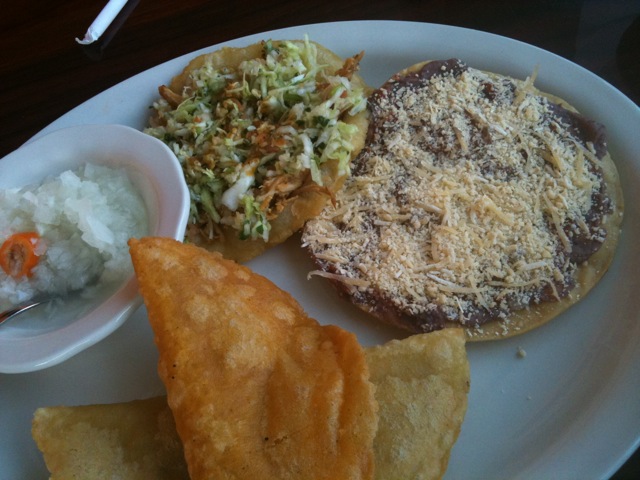 My corn-heavy appetizers were pure Mayan. I began with a plate of panades and garnaches, all of which are anchored by puffy corn tortillas. As wonderfully delicate and rich as they are, I'm sure they're fried in lard. The two garnaches in the top of the photo are like open-faced sandwiches, one with a spicy cabbage salad and the other with a schmeer of refried beans and topped with a really good aged Dutch cheese. The bottom two are panades, essentially meat pies, filled with chopped and lightly seasoned chicken and conch. The small dish to the side is filled with finely minced onion, garnished with a slice of habanero pepper, a feature of most every meal. While everything is well seasoned, it's up to the diner to decide how much onion or habanero to add.
With a thought for requesting several to-go boxes, I asked for a second appetizer, a ducunu. The word translates to "boiled cornbread," but this is an unfair and not entirely appetizing assessment. Young corn is cut from the cob, ground, seasoned and steamed in a plantain leaf, to make a delicate and sweet cake. Sounds just like tamale production, but this corn is quite different from masa, which is essentially a dough made of cornmeal. A ducunu can be stuffed with meat or some other filling, just like a tamale, but I decided to go for a plain one so I could focus on the corn itself. It was really good with a touch of the bright orange habanero sauce (in the background). The sauce was a nice surprise. Remembering my friend Ted's unfortunate tangle with a habanero, I approached the sauce with trepidation. While plenty hot, it wasn't as punishing as I'd expected, and it had a lot of good clean flavor that balanced the sweetness of the corn.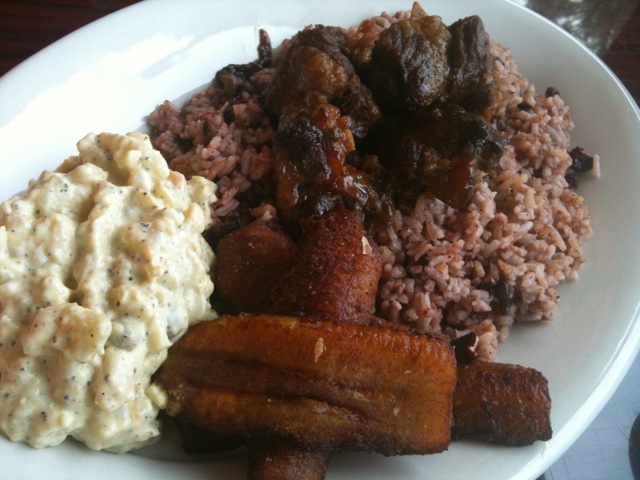 Red beans and rice are the base of many Belizean meals, and these are some of the best I've ever had. They would have made a good meal all by themselves, but I ordered mine topped with chunks of oxtail meat, the juice of which soaked into the rice and gave it extra flavor. Oxtail is notoriously fatty, but it was worth the effort to separate out the bits of fat, because the meat was seriously good stuff, and tender, having been cooked with all that fat. The plantains (tasty and not greasy–yeah!) and potato salad rounded out the meal quite nicely. At first the potato salad struck me as an odd side, but then I realized that since this is the hemisphere that gave us the potato, it really wasn't out of place at all. (Extra to-go box, please!)
I was curious about the freshly-squeezed fruit juices, so my server kindly brought me a couple of samples, so I could make an informed decision. Craboo juice (left) and soursop juice (right) are made from fruits we don't see in North America. The pale orange craboo juice comes from a berry that is rather cherry-like, and you can see a lot of the larger bits in the bottom of the glass. It is lightly sweet with a peculiarly dry edge to it. (The wood is used in smoking meats.) Like the craboo juice, the unfortunately named soursop juice is lightly sweet, but it has a vague tropical-fruit flavor to it. The fruit itself looks a bit like cheremoya, to which it is related.
While I was disappointed that there was no pigtail on the menu the day I visited, I discovered that this is a feature of Belizean menus. You can get the Kriol staple beans and rice anytime, but what you can get on top of them will vary with the day of the week. That certainly simplifies things in the kitchen. And if you have a special hankering, you know to visit on a particular day. The menu features dishes that reflect the food traditions of other groups that make up the Belizean peoplescape, including a strong contingent from Africa (I'm eager to try the cassava- and plantain-based boil up). I plan to return and work my way through the menu and piece together more of the food traditions that came together so creatively and deliciously in Central America. As the saying goes, it's all good.