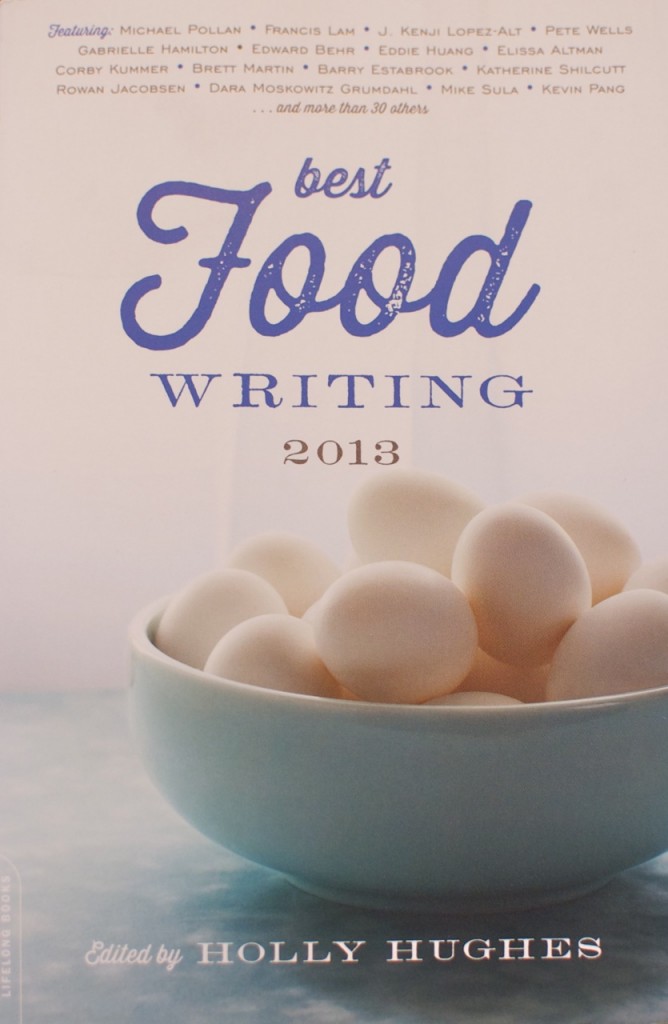 First, an announcement, which really does lead into this blog entry, I promise!
This past year I dredged up memories of my favorite Southern cocktail, the Coke-and-peanuts combo that I enjoyed during my growing up years in Tennessee, and spun them into an essay that made it into Leite's Culinaria, which is a big deal. Then to make a big deal even bigger, my essay was included in the 2013 edition of Best Food Writing, which just came out. You can click and read here, but by all means, please buy the whole book. It's a fine anthology of the past year's musings on cooking, eating and the culture of food. I'm honored to be included with such an outstanding collection of food writers.
When my contributor copy arrived, I reread my essay on the Southern penchant for pouring a handful of salty, Spanish roasted peanuts into bottled Coca-Cola before drinking it. And it reminded me of another Southern delicacy I grew up with, another food-and-beverage-mixed-in-the-same-container kind of thing. It's one I learned to love during the golden days I spent with my grandmother.
Velna was a lean, energetic woman who approached each day as if it were a chicken that had to be caught before supper could be cooked. As my mother accurately described her, she could accomplish more before breakfast than most people could in a day. The wife of a Depression-era sharecropper, she had to be hardworking and resourceful.
By the time I got to know her, those difficult years were past. She and my granddaddy had moved into town, and she stayed at home and watched her "stories on the Tv set" (accent on the "T") while he left behind the plow and team of mules for co-ownership in a small grocery.
I loved staying with her while my mother worked at Granddaddy's store. While those memories are a bit fuzzy, I recall that there was flower garden tending in the spring and summer and picking up pecans beneath the broad canopy of trees in the fall. And afternoon naps under homemade quilts of gingham, floral and paisley. I'd lie there when I was supposed to be sleeping and envision faces in the knotty pine walls of her bedroom. What I remember most clearly is the feeling that we were the absolute best of friends.
For a mid-afternoon pick-me-up (who'd ever heard of a "snack?"), we observed our daily ritual: Grandmother would take the cornbread left over from dinner (outside the South they call this meal "lunch"), crumble it into a couple of tall iced-tea glasses and fill them with cold, cold buttermilk. We'd sit on the porch swing together and watch the world go by as we enjoyed this delicacy, using long-handled iced teaspoons to scoop out every tart, velvety, saturated crumb.
These days I may be the only person outside of the South who eats this combination, and if I am, that's a pity. All you need is good cornbread and some buttermilk. Even the ubiquitous 2% buttermilk from the chain groceries will work just fine. It is sufficiently smooth, while containing an amount of fat more suitable to today's tastes. But I humbly request that you make some Southern-style cornbread for this concoction. The thick, cakey, sweet cornbread of California and elsewhere is not what you want. Since no one bothered to write down recipes when I was growing up, it wasn't until just a few years ago that I found a recipe that most clearly represents the cornbread of my youth.  (Thank you, America's Test Kitchen!) It's closest to what I remember from home.
Give it a try, and let me know what you think.