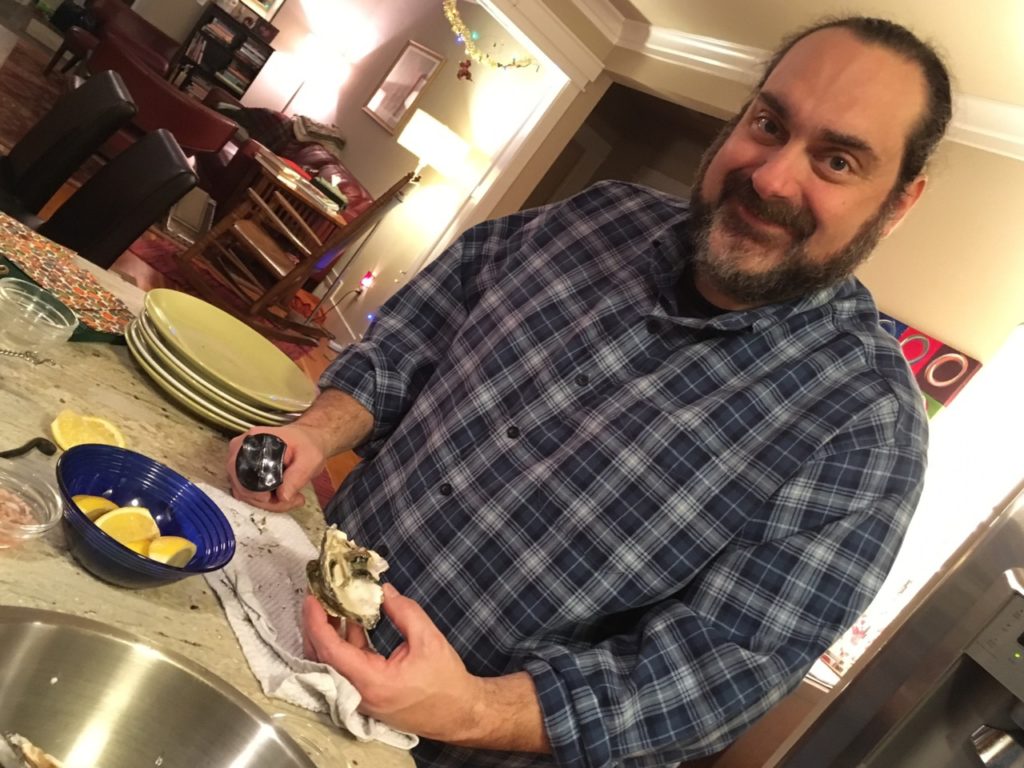 Am I mean to insist that Himself shuck his own oysters on his birthday? Nah! He was tickled to learn how to do it.
Himself's birthday was this past week. It was bright and sunny in Seattle and surprisingly cold, given the abundance of sunshine that day. We bundled up, slathered sunscreen over all uncovered skin and headed to Discovery Park to enjoy some fresh air, exercise and new scenery—including stunning views of Puget Sound, home to all manner of seafood.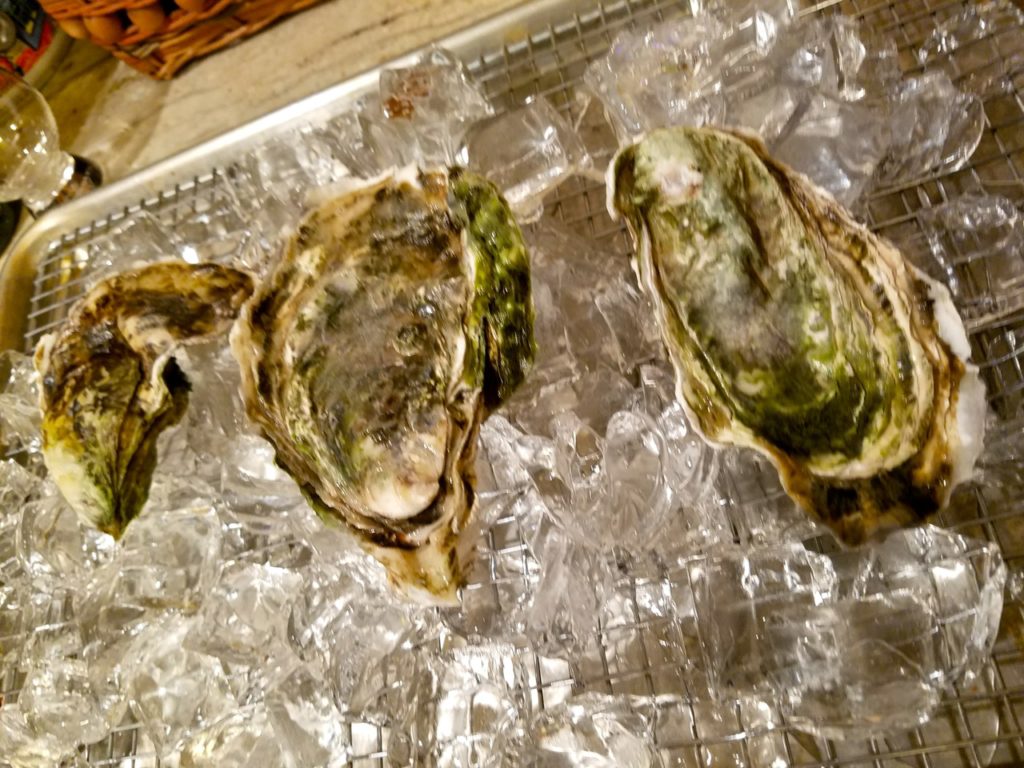 Hood Canal oysters: those gnarly shells are the product of the oysters' mad fight against wild currents.
Chowder certainly would have been in order on such a brisk day, but instead we opted for oysters on the half shell. On the way home we stopped at Seattle Fish Company and picked up two dozen Hood Canal oysters from just west of Seattle, along the inland edge of the Olympic Peninsula. With the outdoor temps in the 30s there was no need to refrigerate them. We ripped open the bag so they could breath and parked them on the back porch while we prepared for our oysterfest.
My first purchase in this remarkably fair city was an oyster knife, and I'm embarrassed to say that it has remained unused until now. I've pried open a few bivalves over the years, but usually when I want oysters on the half shell, I just go to one of my favorite restaurants that offer them and chow down. But why? Live oysters are inexpensive—depending on where you buy them—and easy to prepare on the half shell. You can make whatever accompaniments you want to go with them, invite some friends over and with very little prep, have a sumptuous, impromptu party.
Rather than hog the oysters, we decided to invite over a few friends and show them how to handle an oyster knife. Most people are amazed to find out how easy it is to shuck an oyster. And grateful! I'm glad to liberate my oyster-loving pals from the tyranny of those spendy-spendy platters.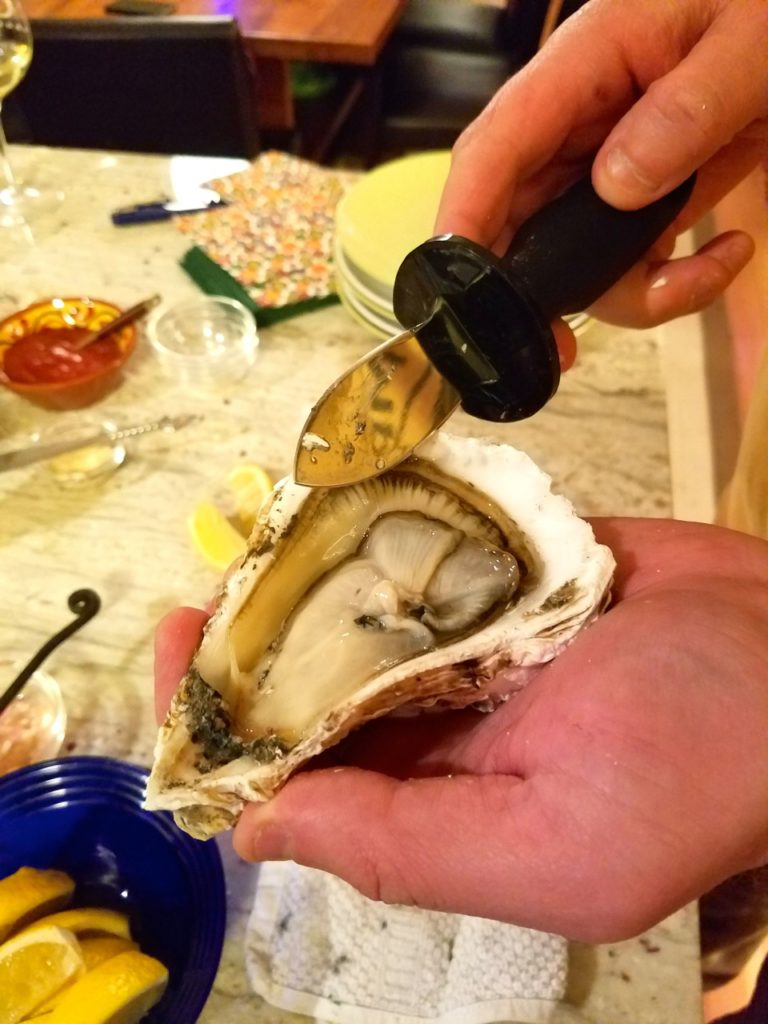 Erik shows off a lovely morsel.
Tod gets the hang of this shucking thing pretty quickly.                                                             Down the hatch!
If you'd like to try your hand at it, Chef Steps presents a great method for shucking oysters that's quick and easy and doesn't even require a special oyster knife!
We enjoyed ours with a simple mignonette—one cup of champagne vinegar and a finely minced shallot stirred together and parked in the fridge for a half hour before time—some cocktail sauce, horseradish and lemon wedges. Crisp white wine and bubbly cava from Spain both paired well with the oysters. We had fun taking turns with the oyster knife and in between, eating, drinking and enjoying great conversation. And of course teasing Himself about his advancing age.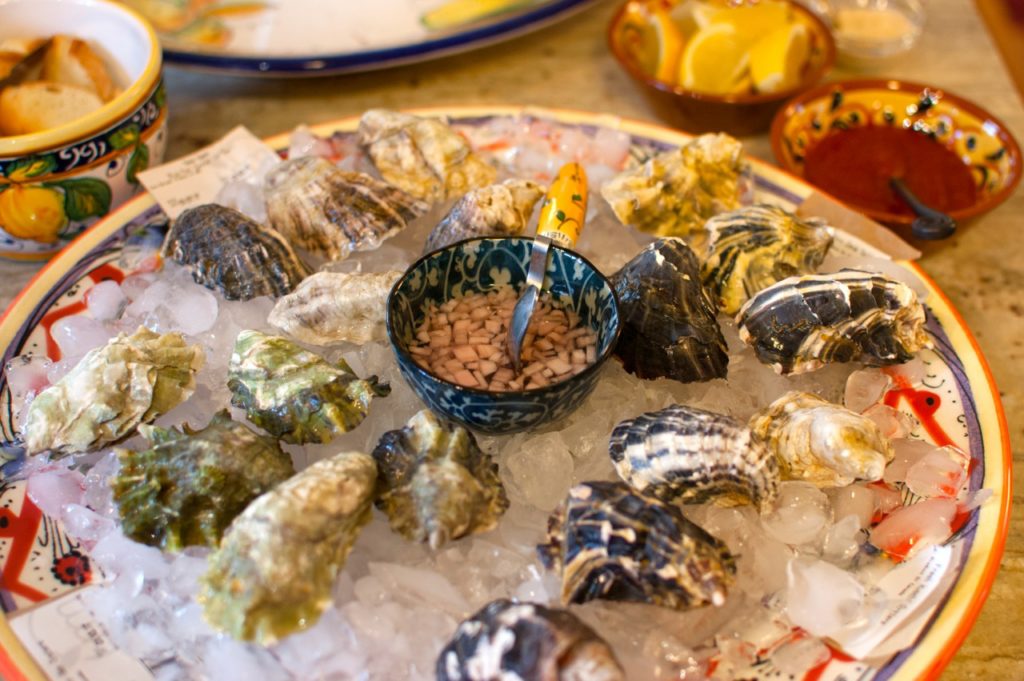 A few days later we decided we wanted more oysters and more variety. I picked up four of each of an array of Pacific Northwest oysters from Metropolitan Market. This way we could sample two each. My notes (*** = my personal favs):
Fanny Bay: large & meaty. Sweet, so not my fav. (opened easily)
***Hama Hama: briny. Tastes very much of the sea. Yes! (opened easily)
***Penn Cove: nice, clean taste—good balance between sweet & briny. (shell is really flakey & crumbly; a bit of a mess but worth the trouble).
Kusshi: sweet little thangs, but they put up a bit of a fight to open.
We had them with txakolina from the Basque region of Spain. It's a crisp, clean, lightly effervescent white wine, so if you don't know whether you'd prefer white wine or bubbly with your oysters, txakolina covers both bases.
Himself and I agreed that setting up our own personal tasting was a great way to explore a food we didn't have a lot of familiarity with. And we know next time we go out for oysters which ones to order—and which ones to skip in favor of trying new and different ones.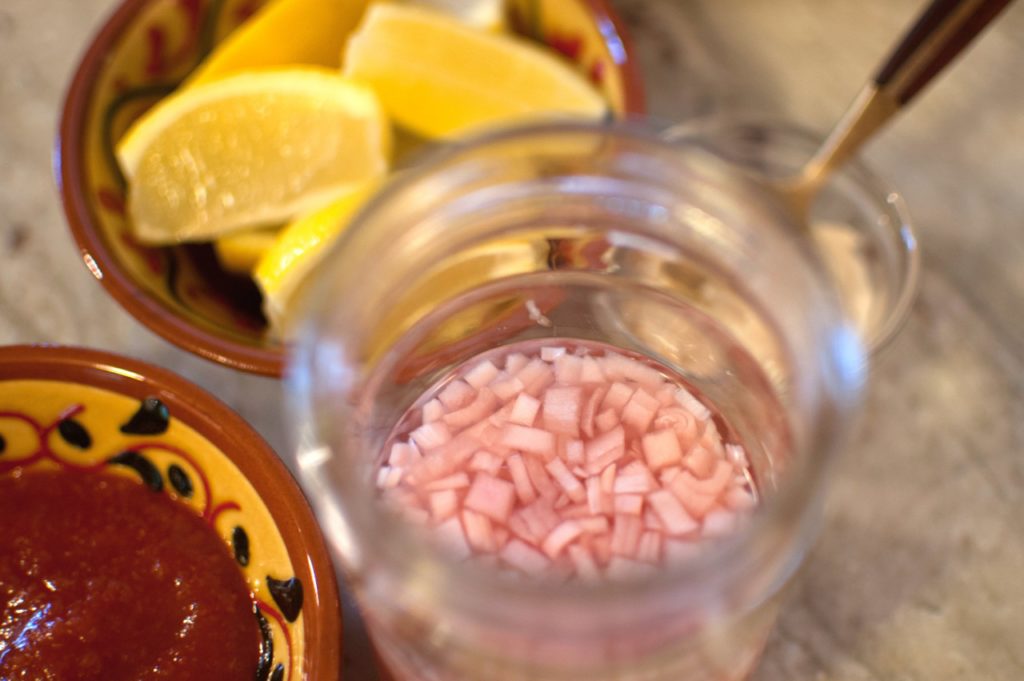 As for condiments, I've decided that for the most part I'd rather have no more than a bare squeeze of lemon or perhaps a sprinkling of mignonette. Oysters have such a delicate flavored that it's easily masked. If it's not my favorite oyster, then maybe I'll add cocktail sauce and horseradish and focus on enjoying its texture.
What's next?
I love a moister oyster—they're so good raw and swimming in the brine in their shells that I'm hard pressed to want to cook them. But I should. And I will, at least for the experience.
In the meantime, here's a sophisticated take on the old standard oyster shooter idea, one that brings out the best qualities of the two components. It's the Oyster Luge, concocted by Bowmore Scotch ambassador Johnnie "The Scot" Mundell. We had it at the now-closed (sad face) Tipple and Brine in Los Angeles.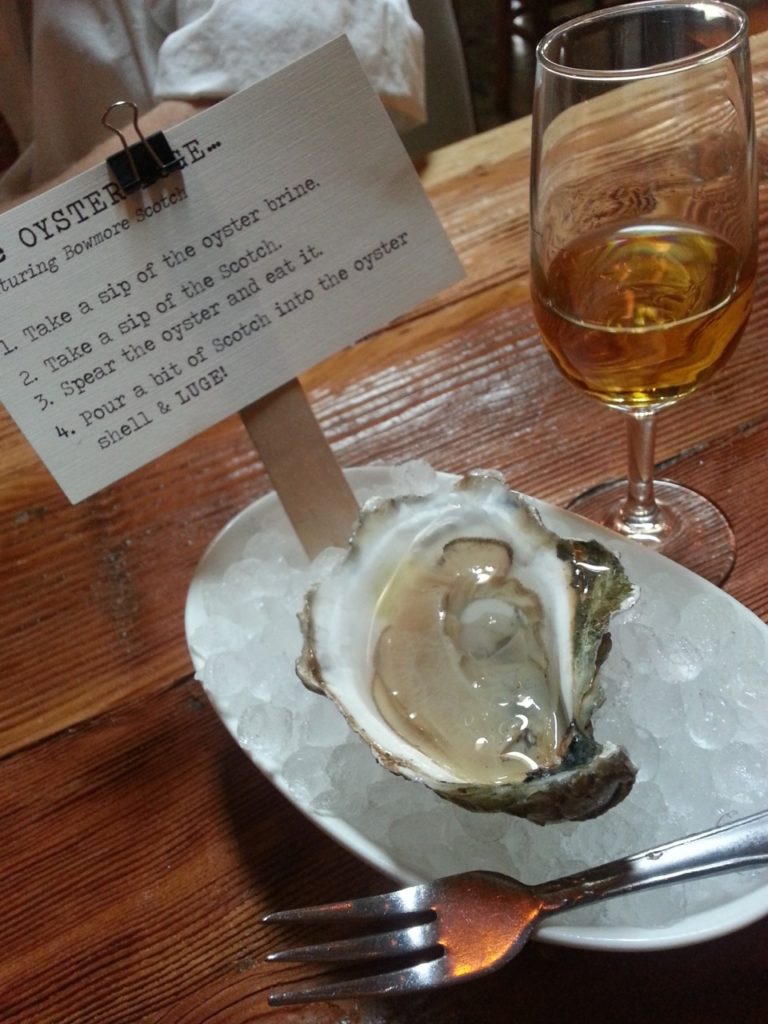 Cheers!
Give it a try! Just follow the instructions in the photo.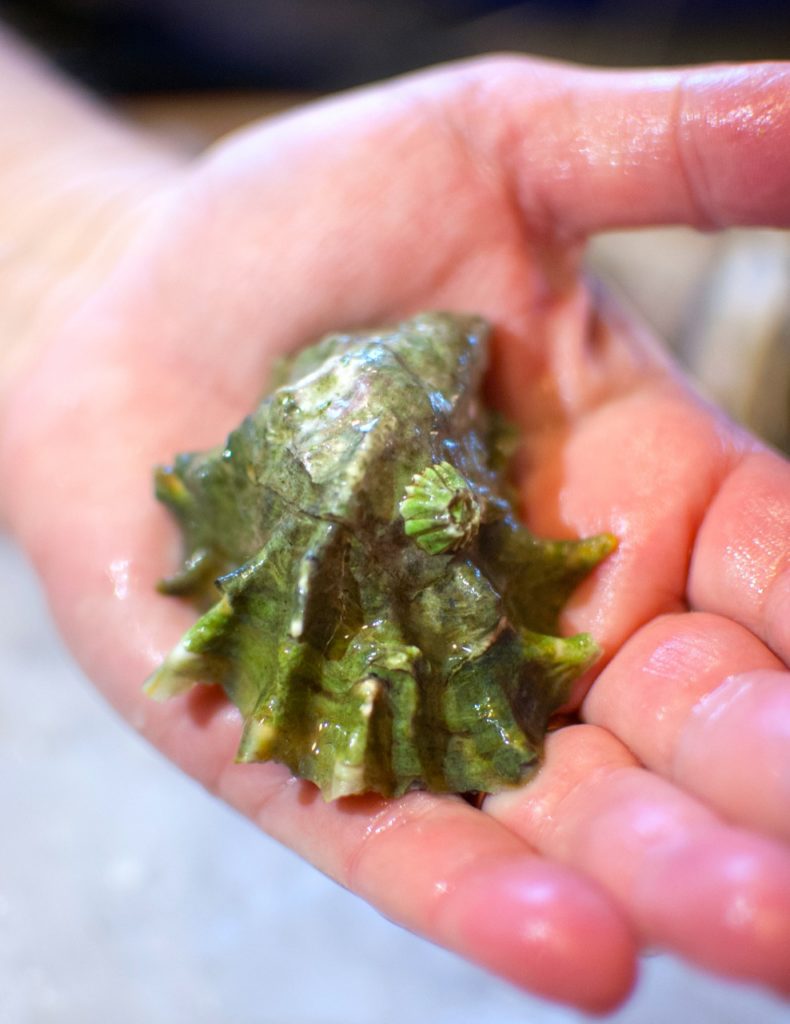 One last photo I didn't know where to include: an oyster with a freeloading barnacle!